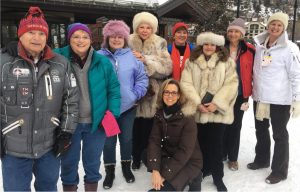 Trip Leader: Cindy Kopp
Every day at Beaver Creek turned out to be a great day for skiing with plenty of snow.  You could ski away from the condo and take the Elkhorn lift, to begin that day's adventure.  In the village you could really relax at one of the many firepits surrounded by outdoor furniture with upholstered cushions.  Joyce, Betty Ann, and Starr enjoyed having a drink outside at the Park Hyatt and watching the skiers coming down the mountain.  Everyone liked the cookies that were available at the bottom of the Centennial lift and in the Charter's lobby around 3:30 every day.
Our welcome party, Mardi Gras, and farewell parties were held at the Charter, where we stayed.  At the Diamond Bistro we were treated to a drink and a jaw dropping view and the pleasure of listening to renowned guitar player Dave Thomas, (who played the Star Spangled Banner at a beach bar on the 4th of July in 2009 on a St. Bernard trip to Panama).
On Monday the group rode a snowcat up the mountain to a scenic Beanos Cabin.   We dined on a lavish 5- course meal.  On arrival we exchanged our boots for a pair of warm slippers.  When it was time to head back, Amy couldn't find her boots.  Management had a look around, and another diner was wearing them!!!
When a condo fire alarm went off and everyone met outside in coats and pajamas, Joyce came wearing the right slippers from two different pairs because the maid lost the lefts!
The awards banquet and dinner was on Valentine's Day at Park Hyatt.  The band was good, so we were moved to get up and dance.  Our 2 racers, Anne and Kip were each awarded a medal! 
There were lots of opportunities for people watching.  Amy and Anne saw Justin Timberlake and his son Silas.  When our group was not skiing, we took trips to villages Edwards and Vail for lunch and shopping.
The club party was at 8100 Mountainside Bar and Grill in the Park Hyatt that had a Colorado mountain atmosphere and excellent fare. Everyone ordered off the menu – tenderloin, fish, elk, and lobster bisque.  All was excellent.  Everyone could order whatever complimentary cocktail they desired.
The travel day home we had to have our bags outside our door at 4:00 am and board the bus which took us to the airport.   Most of us snoozed on the bus.  Spending a week skiing at Beaver Creek was spectacular, but exhausting.