Trip Leaders:
Melissa Wight, [email protected]com or 210-381-5139
Lizzie Fisher, [email protected]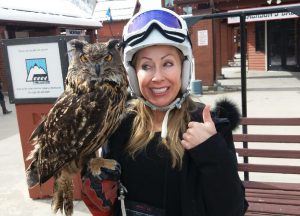 Club St. Bernarders met at the airport Saturday, Feb. 24 to head to Park City.  A few minutes before boarding, we all wondered where our absent trip leader Lizzie was, as she hadn't yet arrived.  She had overslept and was on the way with an Uber driver!  She made it through security just in time, only because the plane was delayed due to storms in Dallas.  Whew!  After boarding, we were again told of a further weather delay.  And another.  The next announcement said that passengers destined for Salt Lake City needed to deplane as we would not make our connection in Dallas and they would rebook us.  So, we hastily exited the plane.  But quickly, we were told to quickly reboard the plane because Southwest was going to hold our connecting plane till we arrived.  Yaaayyy!!!  We're on the way!  Kudos to SW!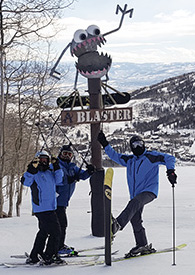 In Dallas, Melissa and Lizzie befriended a lone traveler who was signed up with another ski club.  Obviously, she hadn't heard of our awesome club before she signed up.   Claire became a fixture with all of the CSB members on the trip and has been adopted into the club.  Look for her at the next meeting and welcome her!  And to think Lizzie calls this "poaching".  Melissa prefers to think of it as welcoming the weary traveler.
Joanna did us a favor by taking the ingredients for the club dinner and the wine in her new van on her journey.  She then stayed in Utah to visit friends and do some extra skiing and sightseeing.  Joe and Kathy had flown in earlier to visit their nephew who lives in Salt Lake City prior to our trip.  Mark and Jo  drove in, too,  but they arrived on Sunday.  They had just moved from Corpus Christi to Breckenridge on Friday.  Yep!  Just arrived in Breckenridge on Friday, unloaded, then headed to Park City on Sunday!  Mark has been a long time member of the club, but it was the first time for Jo.  It was so nice to get to meet Jo!  Welcome!  The next time you see Mark, ask him about his last triathlon. It's an incredible story!
We can boast that there were no injuries more serious than sore muscles and a bruise.  And Kip won gold in the races again!  Way to go, Kip!  At the other end of the spectrum, Ray and Melissa  tag-team taught our obstinate student (her words), Lizzie, in beginning skiing.  She's definitely on her way!  
Another really cool thing is that Danny brought his mom, Lidia , on the trip for a Christmas present.  She hadn't skied in somewhere between 12 and 20 years (they couldn't agree on the time).  Yet, she joined us on Monday, then proceeded to have a blast skiing!  She was such a joy to be around and such fun to know!
Four folks from Austin Skiers joined us on this trip.  James, Pat , Linda, and Steve .  We were happy to have them join us!  James and Lizzie made a visit to Olympic Park and really enjoyed it! Ray spent most days skiing with various of our club members, and one evening made his famous spaghetti for his condo mates.  What about the rest of us????????
Betty Ann enjoyed shopping and spending her days doing things other than ski. On the days that Lidia and Jo didn't ski, they had the opportunity to hang out with Betty Ann, who is always very welcoming to everyone.
All in all, we had a fabulous time!  Next year, join us for an amazing week of fun, skiing, and friends!